The project won the Jordanian Ministry of Public Works and Housing Award for Building Design Consultancy in 2013.
This project comprises two faculty and lecture hall complexes in the Hashemite University with total built up area of 34000m2 and estimated construction cost of 17,000,000 USD. Southern lecture hall complex of around 18,000 m2, which included school of architecture, lecture halls, three main theatres, laboratories, studios, administrative offices and related facilities.
The Northern lecture hall complex of around 16,000 m2 included Queen Rania school of Tourism and Heritage in addition to three main theatres, lecture halls, and, administrative offices and all related facilities.
The design brief implies two complexes the can flexibly house different faculties in addition to tens of lecture halls, four 250 seats theatre and two 600 auditoriums. The two complexes are located at two ends of the main campus axis to cope up with the growing students' population and its projections to ten years ahead. The design was meant to introduce a new urban image to the whole university campus. It would suggest a rational contemporary and yet local architectural image that could reflect the new educational age and locality, and, can house the increasing number of students enrolled in HU every year comfortably.
The concept was developed into three interconnected building masses in order to fulfil the functional program which is divided into three groups for each building: the theatres, the lecture halls and the faculties, lined according to each level of privacy in terms of the distance from the main campus axis according to the number of users. The main entrance faces the main axis while the three masses make angles between each other to create a three-sided court yard like space that can house outdoor congregations and student activities almost all year round.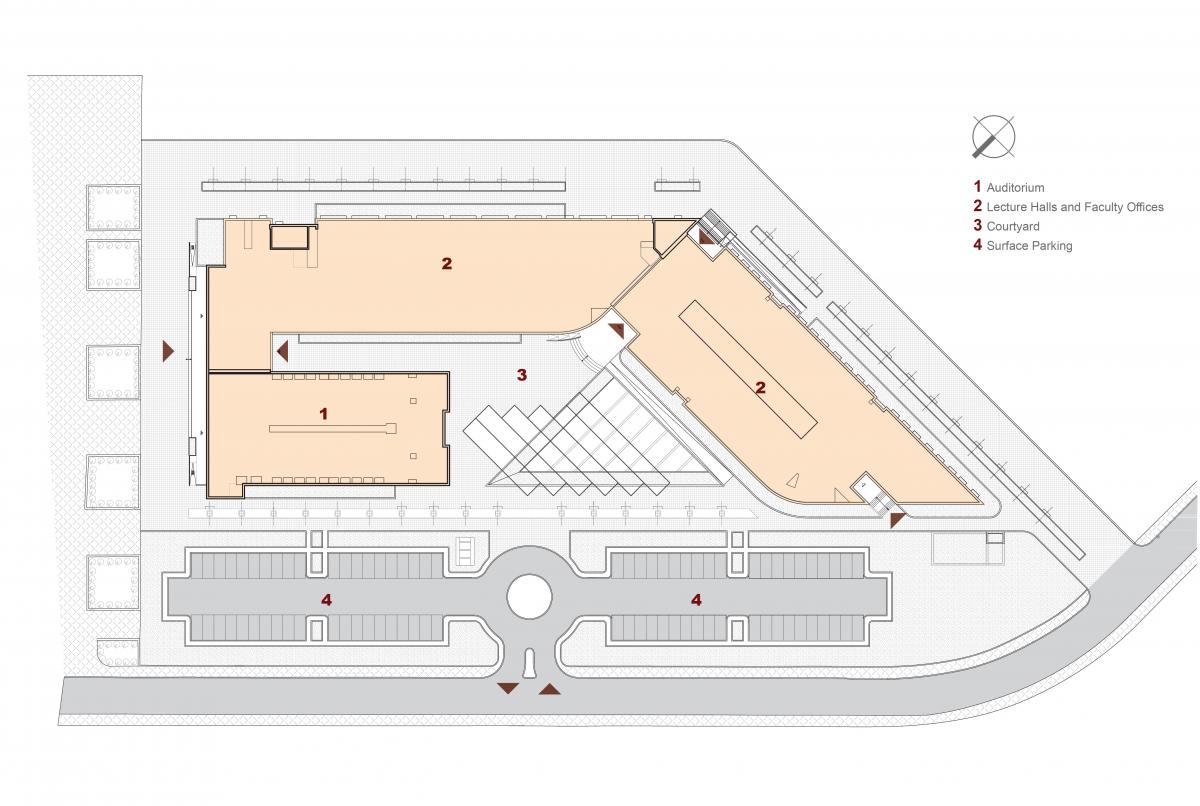 The design standards follow public buildings category in terms of carrying capacity especially in cases of emergency evacuation and egress. Green architecture principles of climatic design, passive energy design, low energy consumption, renewable energy generation systems, efficient thermal insulation, low water consumption strategies, use of local materials and resources and intelligent building systems were extensively used in the design of the engineering systems.
The architecture of the facades reflects the same strategy of contemporary thinking in addition to adapting forms to the advanced sustainability treatments for openings and generic library of sun shading devices taking into account the differential geographic orientation for each elevation into consideration.
The new HU Faculties and Lecture Halls Complexes are widely considered the forehead of the Hashemite University campus buildings and example of other buildings yet to come into existence to follow.