The Arab Mining Company and the Arab Institute of Mining Industries in Amman is a 19,000 sq.m. complex which is composed of three parts:
The Arab Mining Company Headquarters,
The Arab Mining Industries Institute,
The Arab Geology Museum, and Conference Center. 
 
The project won the Jordanian Ministry of Public Works and Housing Award for Building Design Consultancy for the year 2018.
The architectural concept of the project aimed to provide an innovative and decisive landmark that could turn the challenges of the site and program into opportunities for creative design. One major challenge was to come up with an architectural form which represents the identity of a pan-Arab company that was chosen to be located in Amman. The advantageous location of the project at the airport road on a sloppy site with a forest land background combined with the unique functional characteristics of the project made an inspiration for the design team to create a building that symbolizes the process of sustainable mining and mineral extraction from a quarry. The three parts of the project are sculptured to look like an extracted mine through the geometric deformation of the project's volumes and planes.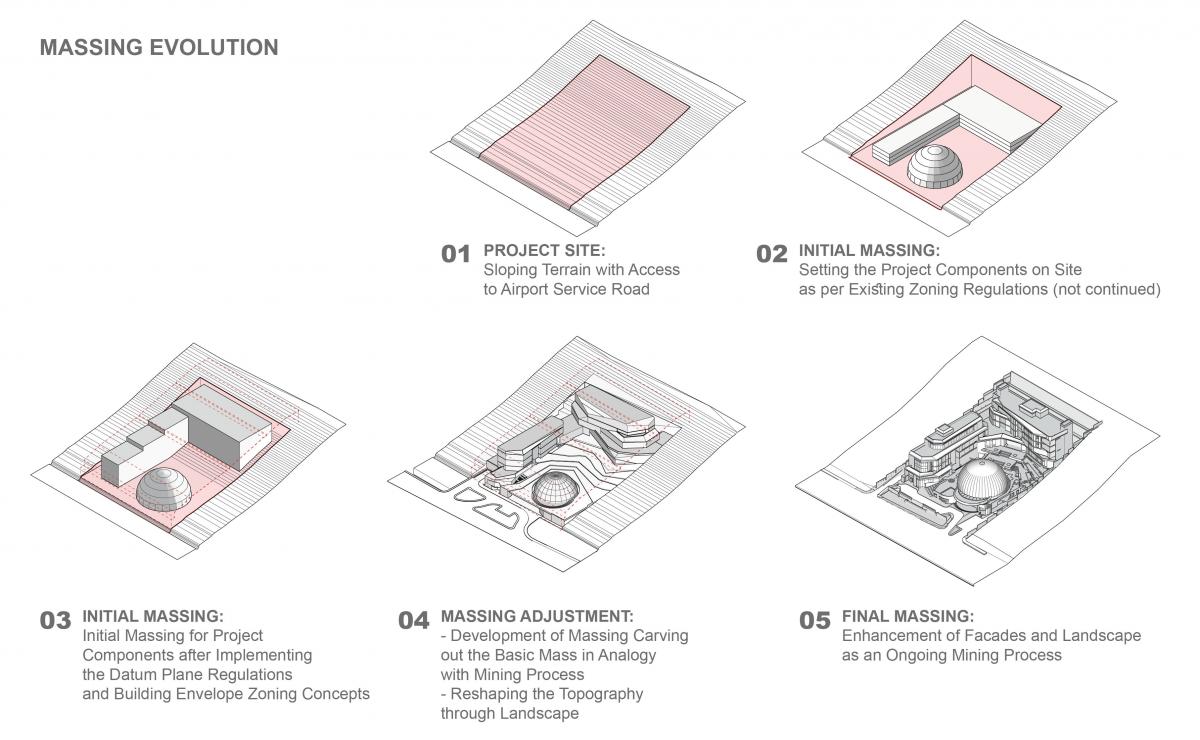 Another challenge the design team had to handle was the zoning regulations of the project's plot which is located outside the urban envelope of Amman. The plot did not have adequate zoning regulations that suit the airport road as a future metropolitan development corridor for the city. The design team succeeded to acquire the approval on the implementation of the more sustainable datum plane and building envelope zoning concepts which were implemented in other areas within Amman but not along the airport road. The datum plane concept helped in achieving the best use of the inclination of the plot. Thus, the final architectural form looks as if the topography of the site was artificially rebuilt to preserve the geographic composition of the surrounding context in a responsive manner. 
Setting the three parts of the project to function independently on the site in terms of circulation and operation without being visually separated was another challenge. The design team overcame this challenge by designing the HQ of the Arab Mining Company and the Arab Mining Institute in two perpendicular masses which occupy a corner side of the site and leaving the remaining area as an open space that hosts the museum and the conference center housed in an iconic dome which is partially cladded using copper sheets in the form of the Arab world map to represent the pan-Arab identity of the project. 
Design Phase
Exterior Images
Interior Images